AUDITORS TELL CONGRESS TO HALT MARITIME WORKER BIOMETRIC ID RULES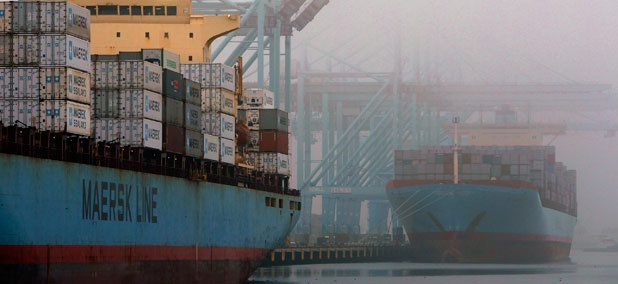 [RIGHT]NICK UT/AP[/RIGHT]Federal auditors advised Congress to revoke a law requiring employees to swipe biometric identification cards to access secure port facilities until officials prove the value of ID card readers.
The Transportation Worker Identification Program, which is more than a decade behind schedule, requires that maritime workers undergo background checks and use ID cards to enter certain harbor areas without an escort. During a $23 million trial, the Homeland Security Department tested card readers to make sure they could verify identities and block access. But independent auditors on Wednesday reported the department's findings are unsubstantiated.
"Eleven years after initiation, DHS has not demonstrated how, if at all, TWIC will improve maritime security," wrote Stephen Lord, director for homeland security and justice Issues at the Government Accountability Office. "Congress should consider repealing the requirement that the Secretary of Homeland Security promulgate final regulations" based on the test's findings and instead "complete an assessment that evaluates the effectiveness of using TWIC with readers for enhancing port security."
DHS did not collect data to back the conclusion that the cards and readers provide "a critical layer of port security," his report stated. The readers and access control systems were unable to record reasons for errors, according to auditors. Also, DHS and independent evaluators failed to collect comprehensive data on malfunctioning cards. And participants did not document instances of denied access.
Rolling out the program nationwide is expected to cost $3 billion, plus an additional $234.2 million for installing the card readers at 570 facilities and vessels.
The top Democrat on the House Homeland Security Committee agreed that lawmakers should hold off on wasting additional funds on an effort that already has cost $544 million.
"The program continues to suffer from fundamental problems that undermine its ability to provide the security benefits Congress intended," Rep. Bennie Thompson, D-Miss., the committee's ranking member said in an email. "Port workers and industry stakeholders have invested their time, effort, and money into this troubled program, holding up their end of the bargain."
Thomspon said he supports the auditors' recommendation that DHS conduct an effectiveness assessment of the security benefits of TWICs and the use of biometric readers "before the American people are expected to invest additional money in this program. We cannot continue to throw good money after bad with this program."
DHS officials, in an April 17 letter responding to a draft report, defended the rigor of their assessments and said the department did not have enough funding to perform the type of study GAO had expected to see.
"There were limited fiscal and workforce resources made available at participating sites," wrote Jim Crumpacker, director of the department's GAO-Office of Inspector General Liaison Office. Also, DHS officials wanted the tests to cover a wide range of service conditions but "avoid interfering with daily operations," both of which "affected data collection."
"The perceived data anomalies GAO discussed in the report are not significant to the conclusions [DHS officials] reached during the pilot," he added