Friday, February 24, 2012
New Zealand police have now boarded the Shell oil-drilling ship that has been occupied by 7 Greenpeace protesters and activists, including television star Lucy Lawless who played Xena: Warrior Princess.
The Noble Discoverer was boarded by protesters yesterday morning at Port Taranaki in New Plymouth. Activists ascended its 53m drilling tower, and have equipped themselves with enough survival gear and supplies to last for several days. They have also hung banners from the vessel reading "Stop Shell" and "Save the Arctic". Lawless, a long-time environmental campaigner, stated that the group would stand firm, despite the arrival of authorities.
New Plymouth police officials reported five of their officers climbing the drilling tower in an effort to make contact with the Greenpeace group. The Shell-contracted ship was scheduled to leave for Alaska to drill three to five exploratory oil wells in the Chukchi Sea, according to Greenpeace records. Shell representatives state that all operations onboard have currently been forced to a stop.
The port has remained open, with restricted access. Most concerns are in regards to the rush of companies trying to drill in the Arctic and the potential for catastrophic spills in the ecologically sensitive region, and to also draw attention to climate change.
Man, I was just on there the other day. Had to have happened right after I left. I would loved to have watched the Warrior Princess scale that derrick!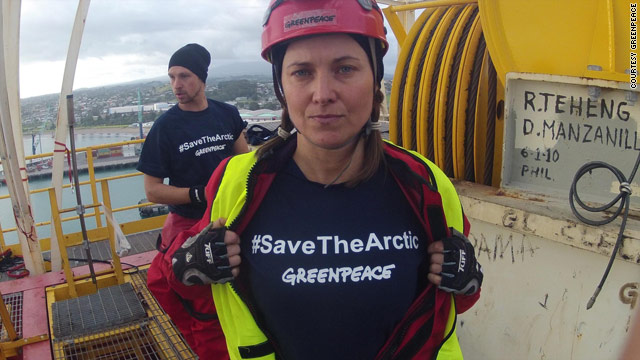 Anyway, it's too bad that Shell can't get a break with their Arctic drilling program. They should unfortunately expect much more of this the closer they get to Alaska, but now they won't be caught with their preverbial pants around their ankles.
As far as the DISCO's security plan…it is nothing more than a plain and utter failure, yet Greenpeace obviously had a good plan and one well executed! I have to wonder if they didn't just waltz right up the gangway? I also wonder what will happen to the master on there over this as it couldn't have happened to a nicer guy. If you read this Cameron, I want you to know that you not only meet but you vastly exceed your well established and most rightly deserved reputation at Noble Drilling! Your crew must really love to have such a standup all around swell guy as their captain. What an awful thing to happen for you but you know you are a tremendously capable master with exceptional skills so you can deal with this all by yourself…Enjoy your moment in the spotlight when they point the cameras at you…you'll be every other captain's envy especially mine. Ah for those 15minutes of fame.
.