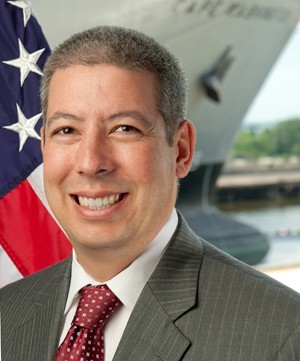 Matsuda Stepping Down as U.S. Maritime Administrator
From: gCaptain
May 13th, 2013
Perhaps the most unpopular person in the U.S. maritime industry, Maritime Administrator David Matsuda has today announced his plans to step down from his post, a role he has held since June 25, 2010. His tenure has been marked by a general inability to connect with U.S. maritime industry stakeholders and support growth within the industry. Filling in the role will be Deputy Administrator Chip Jaenichen.
Commenting on the news, Clay Maitland, Managing Partner at Marshall Islands Registries notes that "it was unfortunate that it had to drag on this long. He should not have been there in the first place."
News of Matsuda's resignation is a relief to the entire U.S. Merchant Marine industry, which sits in a very precarious position. Maitland notes that the U.S. Flag Ready Reserve Fleet (RRF) could be lost due to sequestration and as military cargoes to the Indian Ocean taper off.
The RRF consists of 46 vessels, 10 of which are slated for disposal. The majority of the RRF were built in the 1960s and 1970s.
In addition, the International Food Aid Program, which keeps a number of US-flagged vessels employed while carrying grain cargoes from the United States overseas is on the chopping block as well.
"We could end up with only 10 or 11 ships flying the US flag internationally, and then we may lose King's Point." If this happens, "we won't have very much that serves as an advocate for the US Merchant Marine," notes Maitland.
Here is the full statement from MARAD:
David Matsuda, the U.S. Maritime Administrator, is announcing today that he is stepping down.
Matsuda, who previously worked as the primary transportation counsel to Sen. Frank Lautenberg, was responsible for overseeing more than $1 billion in federal assistance to modernize over 100 of America's small shipyards, upgrade 25 U.S. ports, and build new vessels in the U.S.
He helped secure the future of the 60-ship militarily-useful merchant fleet by leading the charge with an industry coalition on Capitol Hill to advocate passage of the agency's 10-year, $2 billion Maritime Security Program.
During his three years as administrator, Matsuda tackled legacy agency challenges– including environmental cleanup of the California Suisun Bay fleet site and addressing ailing infrastructure at the U.S. Merchant Marine Academy–and refocused the agency on future maritime challenges including use of alternative maritime fuels like liquefied natural gas and Panama Canal expansion impacts on U.S. ports.
"Dave was a valuable member of my team," said Transportation Secretary Ray LaHood. "I'm particularly proud of his work to improve federal maritime education programs and revitalize the U.S. Merchant Marine Academy."
No word yet on who will permanently replace Matsuda as head of the U.S. Maritime Administration.